| | | | | |
| --- | --- | --- | --- | --- |
| "LIKE," TOTALLY! | | | | |
At Berlin, we're huge believers in the power of social media. We see it demonstrated every day as we help our clients get noticed and engage their target audiences with tools like Facebook and Twitter.

Much like a web site, however, a Facebook page or a Twitter account is not, in itself, a magnet. Fans and followers are an integral part of building awareness about your business. There are so many ways - a number of them without cost - to attract users to your social media channels. For businesses just starting to dip a toe in the water, here are some fee-free tips to make people "like" or "follow" you:
Chances are, your employees or co-workers are already on Facebook and Twitter. Encourage them to "like" or "follow" your company. And if you're a large business, make sure everyone knows the company has a presence. If you haven't announced it, don't assume your staff knows about it!


Make sure your business is represented by a Facebook page, not a profile. Profiles are intended for individuals, and pages, for businesses. Facebook's terms of service require you to act accordingly. That aside, users in general are less likely to "friend" a business than to "like" a business. "Friending" on Facebook usually implies a greater sharing of personal information than simply "liking" a business.


Let your clients and prospects know you're on Facebook and Twitter. Link to your pages wherever possible, preferably using the respective logos with your links. You should even include mentions in your email signature, email blasts, business cards (and other print collateral), LinkedIn profile, and even your voicemail or switchboard greetings, if it's appropriate.


Provide content that's exclusive to those who "like" you, and offer incentives for your Twitter followers to "re-tweet" your content. If there's no special deal for being on your inside track, why would anyone bother?


Add the "Like" widget to your web site. Facebook offers several easy options, but if you need assistance, you could always call on your (ahem) favorite social media experts.


Use hashtags - words or phrases prefixed with a # symbol - in your tweets. This will allow anyone following the topic and searching for that hashtagged phrase to see your Tweets among the search results. In short, hashtagging exposes your business to an audience that hasn't yet followed you and might otherwise never know about you.


Don't leave your page unattended or let it go dormant. Social media is pointless if you're not continuously social. Make a plan to tweet or post fresh content routinely, and commit yourself to responding to comments and questions quickly (and, of course, thoughtfully). You're more likely to be "liked" or "followed" if people see that you've always got fresh content and conversation for them.



THE MOST DIFFICULT CLIENT EVER
We recently completed a web site for what might have been our most challenging client. It was also one of our most lengthy development cycles to date. At times, we were frustrated because the client was too busy to focus on the web site. Work kept the client from making decisions, and, at times, the project simply had to be put on hold. To complicate matters, the client moved its headquarters. In the end, the project took years.

But eventually, the new berlinproductions.com was reborn. We invite you to check out the fruits of our extended labor. Our new site features an expanded array of case studies and spotlights our full spectrum of offerings. Check it out - you're bound to discover something new about us!



BERLIN ACTIVATES TO FIGHT
BLOOD CANCERS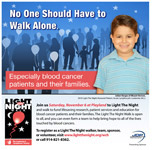 Berlin teamed with The Leukemia & Lymphoma Society to develop a print ad to promote Light the Night, an evening walk to raise funds for cancer research and services for patients and their families. The ad appeared in The Journal News twice in October.

The cause was important enough to Berlin that we've organized a Light the Night team that will be walking this Saturday, November 6, at Rye Playland. If you are interested in walking with Team Berlin, or in making a donation to LLS, visit our team page.



AWARDS
Summer was an award-winning season for Berlin: We received four Big W awards from the Advertising Club of Westchester, and our own COO Dylan Wood was named one of the Rising Stars 40 Under 40 by The Business Council of Westchester.